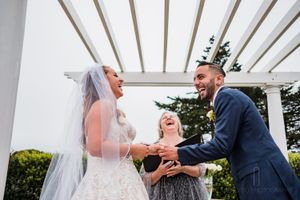 So, you're getting married. Maybe not tomorrow, or next week; but you're engaged and planning your one-of-a-kind wedding or elopement celebration. There are LOTS of moving parts. And, while the reception often takes up most of your time, energy, and budget, there's a little thing called 'the ceremony' that needs to happen to make it all come together. With the right officiant, it's a fun, easy, and stress-free process. 
In this two-part series, I'll share my top tips on how to find and hire the perfect person to officiate your wedding ceremony. In this article we'll focus on finding good wedding officiant matches. In my next article, we'll drill down to the interviewing process. Ready? Here goes. 
Top Three (3) Tips on Finding Your Perfect Wedding Officiant 
Tip #1: While doing a Google search for Wedding Officiants Near Me is a perfectly respectable way to find someone to marry you, there are ways to refine your search to hone-in on a good match. Think about your wedding venue. Is it REALLY near you? If you live in San Jose, but your venue is in Yosemite, your search will yield officiants who are close to where you live but not close to your wedding venue. Why does this matter? Because wedding officiants (unlike photographers and DJs) are hired for a shorter duration, so many accept multiple engagements in a day. (More on this in the next article on interviewing). As such, your service fees will go up due to time on the road, mileage, etc. It's much more cost-effective to find an officiant that's reasonably close to your venue by doing a more targeted search like: Wedding Officiant in Morgan Hill, CA if your venue is in Morgan Hill. Make sense? 
Tip #2: Once you have a good search listing of officiants near your venue, you'll want to drill down to check out their website (if they have one) and their reviews. Reviews are the lifeblood of most wedding vendors, and wedding officiants are no exception. You want to look for current (or relatively current) reviews, within the previous six-month timeframe. Officiants who haven't received a review since 2012 are likely either retired, or a hobbyist, meaning less professional service, and more likelihood for error. As you read the reviews, look not only at the star rating (though it's important), but also look for describing words like: calming, professional, punctual, warm, funny to see if those words describe your perfect officiant. And, if it really matters to you, you'll want to check to see what kinds of ceremonies they perform such as: religious, non-religious, non-denominational, spiritual, civil, etc. 
Tip #3: Sometimes you'll read a website or review or glimpse a photo and you'll know right away that this is the perfect wedding officiant for you. Sometimes, you'll have two or three that you may want to know more about before making a final decision. Once you've narrowed the list, you'll want to reach out to your top choices with the following information: Wedding Date, Location, Ceremony Start Time, and any other details/preferences you may want to share, such as "non-religious ceremony". If there's flexibility in any of that information, you'll want to note that as well. Most professional officiants will reply back to you within 24 hours letting you know of their availability and a general cost to perform your ceremony. At this point, they should also recommend a FREE consultation via your preferred method (in-person, telephone, FaceTime, Skype) and request some dates and times that would work with your schedules. Once you reply back, you can set your calendar and prepare for your interview. More on that in the next article, Part 2 – Hiring Your Perfect Wedding Officiant. 
Please let us know if there is anything we can do to make this time easier for you as you face so many changes and challenges at what is supposed to be the happiest time of your lives. We are here! Feel free to call to vent, plan, or process what is best for you. 408.891.7672. Or reach out on our contact page.