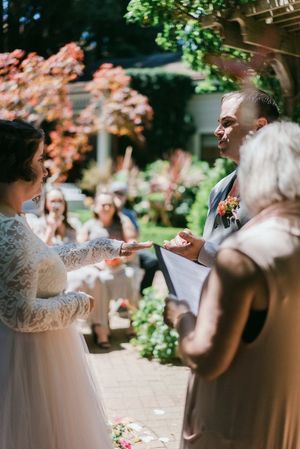 This is the second installment of a two-part series on How to Find and Hire Your Perfect Wedding Officiant. Today, we're going to focus on interviewing and hiring your perfect wedding officiant. If you haven't read Part 1 yet on How to Find Your Perfect Wedding Officiant, you can catch it HERE. Let's get going. Shall we? 
My Top Three (3) Tips on Interviewing Wedding Officiants to find 'The One' 
Tip #1: You've set your complimentary 'meet'n'greet' appointment and are headed to the coffee shop or jumping in a Zoom call. What should be you be looking for during the initial moments of meeting with your officiant potentials? First, take note of whether they show up early, on time, or late for your meeting. On time is good, early is better. Late? They'd better have a pretty good reason. Like many other wedding vendors, we function around your schedule, and punctuality for the first appointment is a HUGE indicator of the officiant's level of organization and scheduling skills. How's their appearance? Did they take the time to dress for an introduction? Or did they show up in coffee-stained sweats and tennis shoes with messy hair? Again, this conveys their level of professionalism and how much they care about making a good impression. I've seen this transfer to the wedding venue, with tragic results, more times than I care to think about. 
Tip #2: After the initial introductions have taken place, the officiant should be prepared to lead you through a heartfelt and productive conversation. A good officiant will know your names, wedding date, venue, time, and any other details shared in your initial contact. They should have something to write with and on to keep notes from the conversation. They should be genuinely interested in getting to know both of you and your love story before ever jumping in to talk about your wedding day or ceremony. Throughout the conversation they should be engaging, asking questions about your desires, listening, answering your inquiries, and taking notes all the while. It should feel like a beautiful dance of being guided to your ultimate vision of your perfect ceremony. If you don't get two words in edgewise, or feel as though they're pushing their agenda, RUN, don't walk out the door. 
Tip #3: A good officiant will know what they're doing. A great officiant will leave YOU feeling confident they do. They should have a process for working with client couples and be able to articulate it without hesitation. They should be able to discuss contracts, invoicing, calendaring, communication, and fees with complete transparency. If they can't, you may be talking with a hobbyist rather than a professional. For one of the most important days of your life, I can't stress enough the value of working with a seasoned professional. Once your questions have been answered and the meeting is complete, the officiant should offer you space and time to digest the information and come to a decision about working together. They should thank you for your time, and let you know how to reach out with questions or once you've made your choice. Of course, if you know then and there that this is the person you want officiating your ceremony, there's nothing wrong with locking it down in the moment. Because, like you they'll be on to their next meeting, and nothing feels better than knowing you're moving forward with someone who just feels right! 
Did you miss my first article on Finding Your Perfect Wedding Officiant? If so, you can read it here:
Not sure what to ask during the meet'n'greet? I have a list of FANTASTIC QUESTIONS that will guide you to your perfect officiant! You can request it here.