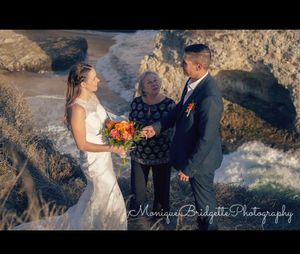 If you were planning a wedding for this year, I'm guessing that Covid-19 has put a crimp in your plans. For some couples, it's been a minor inconvenience. For others it's completely upended their celebrations, sometimes causing emotional and financial stress. 
While I can't guarantee that everything is going to be back to "normal" in the next few months, I can say with some certainty that there are still ways for you to celebrate your LOVE with family and friends. And, I'm going to bet that if you're willing to get a little creative and be somewhat flexible with your vision, it can be downright AMAZING! 
In an effort to pivot and bring about some semblance of normalcy for our beautiful couples, those of us who make our livings in the wedding and events industry have had to get creative with our offerings and services. As a result, what's evolved has been some of the most inspired and, dare I say, revolutionary solutions. Since my area of expertise centers around your ceremony, that's where I'm going to focus today's article. We'll look at some traditional, as well as some newfangled ways to hold your near-ideal celebration. 
The Elopement 
Elopements aren't a new concept at all. They've been around for ages, and typically, were always VERY private. Today's couples are finding that (with the help of their officiant) they can experience anything from a very simple, intimate ceremony to a lavish and highly-curated ceremony including all of their friends and family through the use of tools like FaceTime, Zoom, and Skype, or by hiring a professional videographer to livestream their event.
Elopements are a great opportunity to get creative regarding location, theme, etc. In the photo for this blog, I met up with my couple at Shark Fin Cove in Davenport, California and we held their ceremony on the cliff. True story! They definitely couldn't have done that with 20-30 people in attendance simply due to the size of the space we were working with.
The Numbers: Wedding Couple, Officiant, Photographer/Videographer, 2-8 guests 
The Micro-Wedding or Pop-Up Wedding 
A micro- or pop-up wedding is a short celebration (from one to four hours) that is all about you. Your choice of venue, 2-20 of your favorite guests, your choice of ceremony style, a bouquet and photographer to top it all off. Add some appetizers, a cake and some champagne and you have a really nice celebration that is affordable, convenient, and elegant. 
The Numbers: Wedding Couple, Officiant, Photographer, 2-20 guests 
The Sequel Wedding 
A sequel wedding is basically a two-part celebration that allows you to celebrate your love and get legally married now, and then gather with friends and family for your reception (party) at a later date. Think of it as a second act, maybe on your one-year anniversary. You can include as many people as you wish for the initial ceremony via livestream, but the in-person part would be postponed until larger groups are encouraged. 
The Numbers: Elopement or micro-wedding now with your BIG Celebration at a future date, 2-200 guests 
The Shift Wedding 
A sift wedding is a new concept that I haven't actually seen played out yet; but it sounds like a very interesting idea. Basically, you invite all of the guests you would have originally included, but you divide them into "shifts" and they show up at the venue for the portions of the celebration that fit their relationship with you, preferences, age, etc. For example, say you have 80 guests on your list. You could include 20 of them for the live ceremony (the rest could watch via livestream). They then depart and the next "shift" comes in to enjoy cocktail hour and appetizers with you. They depart and the next "shift" arrives for a light buffet. And, so on and so forth, through cake cutting/dessert, dancing (after party) etc. Of course, you'd need to have a VERY good coordinator and agreement with your venue as proper sanitizing/set-up between the "sifts". 
The Numbers: Still celebrate with the big guest list; but do it in shifts, 20-100 guests 
I'd love to hear what you think of these ideas and also any thoughts or comments if you've experienced one of these celebration types. Want to know more about me and how I help couples celebrate one of the most amazing and important days of their lives with unique and beautiful ceremonies? Visit me here.