Today, while searching the web for some blog material inspiration that ISN'T about the election, I came across this nifty list of Words to Use More Often: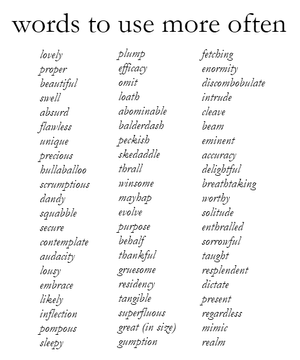 At first, I was inclined to simply set it aside for future reference. But, the more I considered and savored the words on the list, the more I realized the potency that is carried through language. Characters turn into words, that turn into sentences, that form thoughts that can shape our opinions, beliefs, moods, and actions.

As I examined the list more closely, I came to the conclusion that it is not only my choice but my responsibility to select my words wisely. So, here's a break-out of the words I've decided to integrate into my vocabulary on a more regular basis. 

Swell (Gee, Wally!)
Precious
Scrumptious
Dandy
Embrace
Skedaddle
Behalf
Fetching
Breathtaking
Worthy
Enthralled
Resplendent

With so much divisive and disrespectful language being tossed about lately, I'm choosing the path of love and thoughtfulness...not to mention fun!

So, I've got to skedaddle off to enjoy a scrumptious lunch with a fetching friend. Until we chat again, I wish you a dandy day filled with breathtaking smiles and precious memories! Too much?